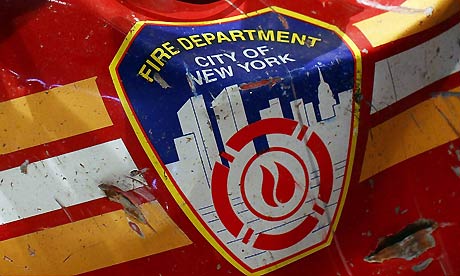 A door from a firetruck crushed by the collapse of the World Trade Centre displayed  at the Smithsonian Museum in Washington, DC. Photograph: Win McNamee/Getty Images
September 6, 2011
What Impact Did 9/11 Have on America:
A panel examines the cultural and political legacy of the al-Qaida attacks and the US response in the decade since
The Guardian UK – Including: Martin Kettle, Andrea LeBlanc, Hadley Freeman, Wajahat Ali, Michael Ratner, Peter Preston, Carie Lemack and Paul Pillar
View at: http://www.guardian.co.uk/commentisfree/cifamerica/2011/sep/06/impact-9-11-america

Andrea LeBlanc : 'It is time to rembember that there are other, better, nonviolent ways to respond to conflict'
Ten years after the attacks of 11 September 2001, "Remember 9/11" is being repeated in all quarters of the US. More than merely being remembered on this the tenth, or any, anniversary, for some of us 9/11 has become the pattern indelibly absorbed into the fabric of our lives. But more important than remembering the day, is the legacy of 9/11, which, I fear, is a legacy of forgetting rather than remembering.
Have we, as Americans, forgotten what our nation was created to be, or have we ceased to trust those principles out of which it was conceived: our tested judicial system, which has served so well for so long, and the purposeful and sound reasons for checks and balances in government? Have we forgotten that revenge is not the same as justice?
Have we forgotten or wilfully sacrificed our humanity in our fearful frenzy to protect ourselves and our way of life, becoming the very enemy of those freedoms that are the basis of that very way of life? Have we forgotten that all actions have causes and consequences?
The attacks of 9/11 did not come out of nowhere. Have we forgotten that violence always begets violence, and that war is by definition terrorism? Have we forgotten to be curious first and afraid second, to ask questions and listen to the answers?
Have we forgotten that we always have choices, that the choice between doing nothing and responding violently is a false choice; that to allow anger or fear or despair to consume our lives is a choice and, if made, is an abdication of our responsibility for our lives and all our children's future; that our choices have repercussions on the lives of children everywhere.
I believe it is time to remember, but to remember the true costs of 9/11 which far exceed the 3,000 lives taken so cruelly and deliberately; to remember to count the uncounted civilians whose lives have been shattered by our choice of war, the military men and women who return broken in mind and body or not at all, the untold amounts of money that has been stolen from the building up of human society and used rather to destroy.
It is time to remember that there are other, better, more effective, nonviolent ways to respond to conflict. It is time to remember that we have a choice about what kind of society we truly want to be.
• Andrea LeBlanc is a steering committee member of September 11th Families for Peaceful Tomorrows